Common Spiders of Ohio field guide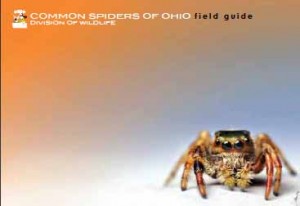 79 pp. Available at most Ohio Division of Wildlife offices and some nature centers around the state.  A pdf. version [FYI this is a relatively large file 22.5 MB] is available online here.  This guide is a free publication provided by donations to the state income tax checkoff program, sales of the wildlife conservation license plate and the Ohio wildlife legacy stamp. For information about how to support the Wildlife Diversity & Endangered Species Program, check here.
An illustrated guide to 63 common spiders of Ohio.  The basic natural history of each species is described and the spider is illustrated.  Information is provided on when and where to look for each species.
Text by: Richard A. Bradley
Sample Page: