In Ohio's backyard: Spiders (2004)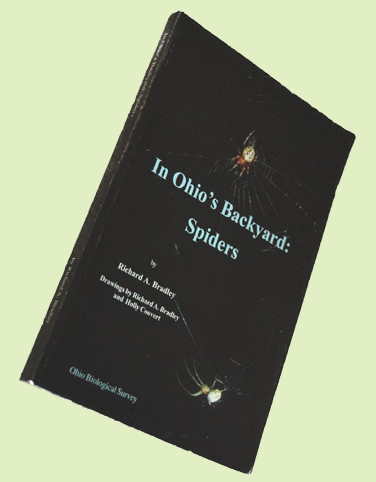 Published in the Ohio's Backyard series (#4) by the Ohio Biological Survey, Columbus, Ohio, USA.
written by Richard A. Bradley
This book is intended as a general introduction to the spiders of Ohio.  It was created for a series of books on common and widespread animals that are generally misunderstood.  The intended audience for the book are interested naturalists, teachers, spider students, and amateur spider enthusiasts.
The book has 185 pp. and is illustrated with line drawings, color illustrations, and color photographs.  It includes keys to the 14 most common spider families, as well as descriptions of common species found in and around homes and buildings as well as outdoors in this region.  84 of the most often encountered species are described and illustrated with color photographs.  Lesson plans are included for elementary school teachers and other natural-history educators.
Table of Contents
Preface ………………………………………………iii
Acknowledgments …………………………………..iv
Chapter 1. Spiders and People …………………….1
Chapter 2. What is a Spider? ……………………..17
Chapter 3. The Life of a Spider ………………….. 29
Chapter 4. How to Study Spiders ……………….. 53
Chapter 5. Spider Identification …………………. 68
Chapter 6. Spider Habits and Life History ……… 99
Appendix I. Lessons ………………………………139
Appendix II. Glossary of Terms …………………165
Appendix III. Pronunciation ……………………..177
Appendix IV. Reading List ……………………….180
Index …………………………………………………185
To order a copy of this book, contact the Ohio Biological Survey.  The book can be found on the OBS website by choosing the books and posters under the publications tab and scrolling down about 1/2 way to the In Ohio's Backyard series. 185 pp.  paperback or spiral-bound.  Current price is $25 or $20 for Ohio Biological Survey members.